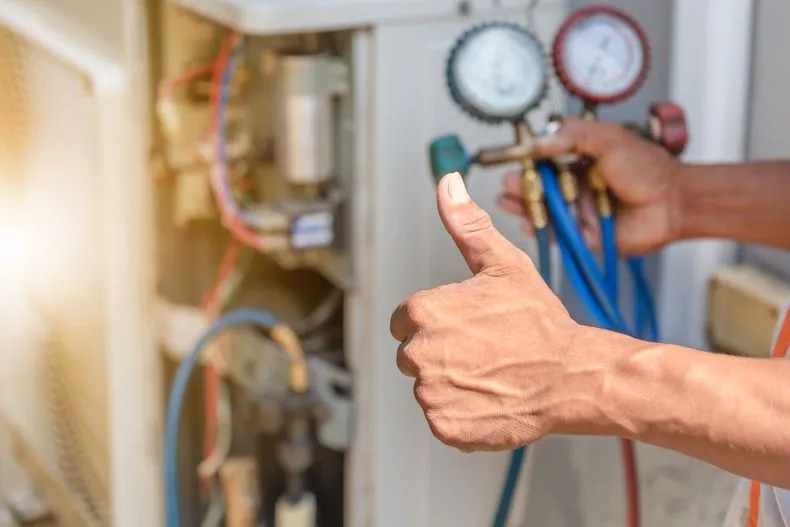 We've all heard horror stories from friends and neighbors about bad experiences with professionals in skilled industries. HVAC professionals are always under scrutiny for their workmanship, products, and customer service\. For this reason, it is important that you choose a professional HVAC technician carefully when you need help.
The HVAC industry is no different from any other line of work. A few bad apples ruin it for the hard-working HVAC technicians who run an honest business. So, you owe it to yourself to do your homework before hiring an HVAC repair company in Severna Park, Maryland. Below, we look at what to look for when hiring a professional HVAC technician.
Professional Industry Credentials
Beginning HVAC professionals will often go through some form of education and pass a certification exam to get their HVAC license. Why is a license important? Because it shows that someone took the time to go through the proper channels and learn how to work on a residential or commercial HVAC system. 
So, if you are unfamiliar with a professional HVAC technician in Severna Park, don't hesitate to ask them for proof of certification or licensure. A credible technician won't think twice about showing it to you. 
There's another reason why certification and licensure are important. A license holds a technician legally liable for any problems that occur due to their workmanship. It's much easier to take legal action against someone with a license than someone without the proper credentials.
General Liability Insurance
Nearly all Maryland businesses in almost every industry imaginable carry general liability insurance. HVAC companies are no different. General liability insurance covers three main areas.
Medical expenses from bodily injury

Legal fees from an injury claim or lawsuit

Property damage
General liability insurance protects anyone involved in an HVAC job-related accident. It protects the company, its employees, and property owners or clients.
The minimum amount of liability coverage required by Maryland law is
$30,000 for bodily injury per person

$60,000 bodily injury per accident

$15,000 property damage.
If an HVAC company in Severna Park, Maryland, doesn't carry general liability insurance, don't hire them. Doing so puts you at risk of losing thousands of dollars in medical bills or property damage if something goes wrong.
A Strong Track Record
If there's anything that a reputable professional HVAC technician takes pride in is the long line of satisfied customers they've helped and the quality work they've provided over the years. When you ask a successful technician for references, they are more than happy to give you several. 
Ideally, you want an HVAC company with a strong track record that is easy to find. What should you be able to find if you do a little digging?
A company website

An online portfolio or photo gallery showing previous work

A list of recent references readily available upon request

A high rating from the Better Business Bureau
If you do a background check on the technician or company, the information you find should make you feel confident in hiring the company without any hesitation or doubts.
Customer Reviews
In today's digital-driven market, customer reviews can make or break a company. A good review can catapult a contractor to the next level, while a bad review can make a company rethink its work and service quality. However, customer reviews are not for HVAC companies. Instead, they're designed to help you, the customer. 
So, take some time to read customer reviews. Ideally, you want to go back two to three weeks of reviews to get a full picture of the HVAC company. Where can you find customer reviews?
The company's website

Google reviews

Facebook (social media sites)

Angie's List

Better Business Bureau
Be sure to leave your customer review after hiring the company for HVAC replacement services. You can help both the company and future customers.
An Accurate and Complete Estimate
In the contractor world, not all estimates are the same. A roofing estimate can look very different from an electrical work estimate, which may not resemble an HVAC service estimate. So, make sure you understand what is in your HVAC repair services estimate before you agree to work. It is especially important if you are hiring a company for HVAC replacement services. 
What goes into an HVAC estimate? 
Cost of labor

Cost of materials

Miscellaneous costs

Summary of work

Warranties

Contact information

Certifications & credentials

Model number & SEER ratings (HVAC replacement)
When looking at your estimate, it's a good idea to have the contractor there to explain it to you and allow you to ask questions or get clarification on certain items. Do not hire the company until you fully understand what you agree to. 
Warranties
Warranties can be confusing. As a result, a lot of homeowners end up never taking advantage of their warranty or void it unintentionally. Like your estimate, you need to thoroughly understand what is and what is not in your warranty before you agree to an HVAC repair or HVAC replacement. 
When it comes to HVAC services in Severan Park, there are two main types of warranties.
1. Labor or Contractor Warranty
Every contractor does warranties differently. What they all have in common is that they cover the workmanship of the job. The technician guarantees that his work meets industry standards and meets your expectations. 
2. Manufacturer Warranty
The manufacturer warranty covers the products or materials used in the HVAC job. A warranty can cover an entire HVAC system or a simple part replacement. The manufacturer guarantees that their product is as advertised and meets industry standards.
Schedule HVAC Services in Severna Park, Maryland
Whether your system needs repairs or looking for a full replacement, count on Bayside Heating and Cooling or dependable HVAC services in Severna Park, Maryland. To schedule a professional HVAC technician today, fill out our contact form or give us a call.